We provide complete support for our clients both in the field of acquisitions and sales of companies and their parts, as well as in the processes of mergers or divisions of enterprises.
We carry out company valuation and precisely define the value of the businesses. We cooperate both with the public and private companies and investors. Our expertise and many years of experience also allow us to efficiently handle privatization processes.
The scope of services includes, among others:
Acquisitions and sales of companies and their parts.
Mergers and divisions.
Valuation of enterprises and their assets, including intangible assets and fixed assets.
Sales and acquisitions transactions are the main service we provide.
The condition for its effectiveness depends on preparation of the process, both from the conceptual (customer expectations as to the transaction effect) and technical (tax and process optimization, valuation).
Many years of experience also allow us to effectively support negotiations, whose success relies on consensus between the parties.
Crucial stages of the process of taking over and selling companies are: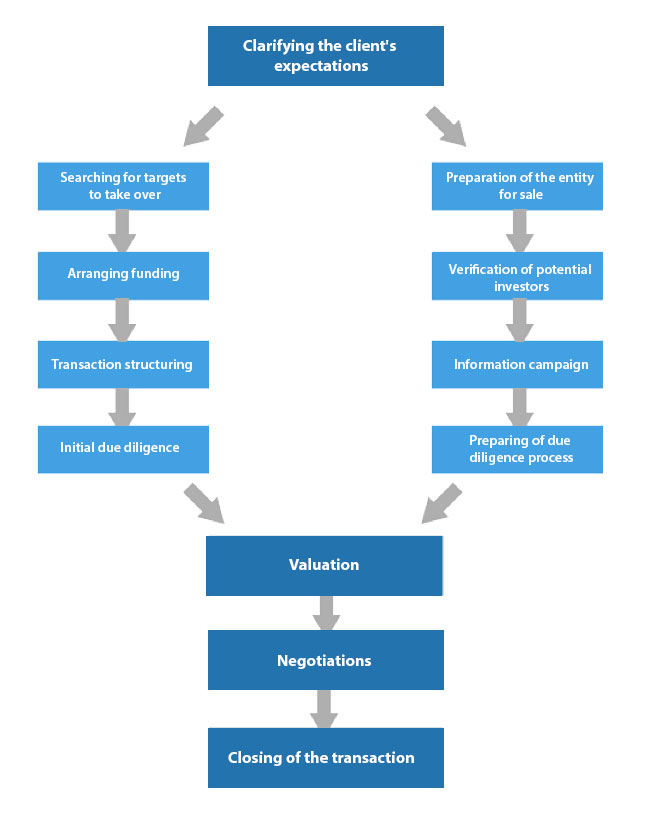 Through our experience and resources, we are able to efficiently and comprehensively help our clients to carry out the entire process.
As part of the complete support for these processes, we offer advisory services in the field of:
developing a business concept (financial, legal and tax) that defines and justifies optimal activities and the desired final result

;

conducting appropriate partial analyses, valuations of enterprises or their organized parts, using optimally selected valuation methods

coordination and supervision over the legal implementation of the entire process

 

– "from a concept to registration".
We have carried out over a dozen capital restructuring processes for a variety of business branches, which makes us reliable specialists in this field.
Based on our knowledge and experience, we can offer all methods recognized by financial institutions and investors, including:
valuation using the income methods (discounted cash flows, APV, real options)

valuation using the property methods (adjusted net book value method, liquidation / replacement method);

valuation using the comparative methods (comparisons of indicators and market transactions).